Kate and Van Harris 2017-1963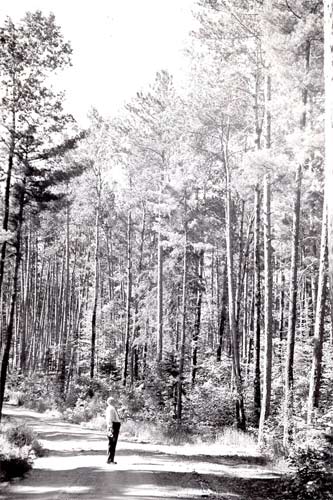 Van Harris and Kate Baker lived and were married near Stevens Point, Wisconsin around 1900. They moved to Duluth where Kate was a school teacher and Van was a timber cruiser for Oliver Mining Company. In 1917 they moved to Burntside Lake where Van had worked and made friends. With the help of the Knuutti family, they built two log cabins, now #6 and #2. Kate taught school for the neighbor children and Van continued work. Soon local cabin builders began work on what would turn out to be the resort, hopping around the grounds, numbering the cabins in order that they were built, but not in geographical sequence…1. 11, 12, 14, 15, 4 and so on. Folks may also note that a few numbers are missing or not used for guests: #3, 22, 23. Lucky 13 is the lodge.
Buell Tubbs, Nancy's dad, and a relative of Uncle Van, started work at Camp in 1938 where he cleaned cabins as one of the crew that hauled water from the spring and blocks ice from the icehouse and filled the kerosene lamps and stoves.
"The Harrises were fine folks to work for," he said, "and we had many laughs together at meal times. Mrs. Harris read a lot of books, and frequently would break into a conversation to quote a few lines. The Harrises had no children, but all of the young people who worked at Camp remember them as Aunt Kate and Uncle Van."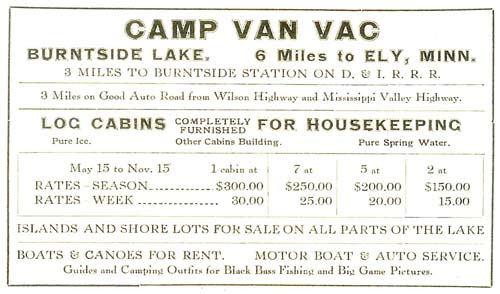 They retired to their nearby cabin in 1947 when Winnie (Kate's niece) and Buell (a relative of Uncle Van) married and began to run the resort. Van Harris passed away in September, 1951, and Kate Harris died in Idaho in July 1963. They are buried in Forest Cemetery in Stevens Point.
There's more to the family's story, and many interesting characters who brought energy and adventures to Camp: Winnie, Buell's wife and Nancy's mother; Donald and Donna Jean, her two children; Billy and Linda, cousins who joined the family; Nancy and her husband Tom; Buell's second wife, Helen. Aunts and uncles, cousins, nieces and nephews joined the family around the lunch table and pitched in to serve Camp and our guests over this 100 years.