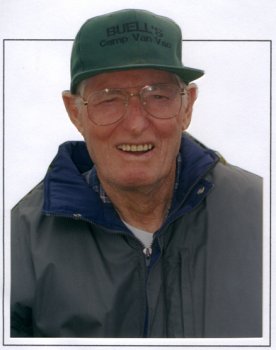 Buell Tubbs, Nancy's father, owned and managed Camp Van Vac from 1947 to 1984.
Buell passed away on December 1, 2005. Up until then he was doing well, going to exercise class every day and enjoying life with Helen at Brendenwood in Leesburg, VA.

Some of our last conversations were about Camp, thinking so fondly of our guests, friends and family, past fishing trips, the lake, and the woods. I hope that at the same time we are missing him, Buell's spirit will bluster the wind, sweeten the sunsets, and invigorate our days with memories of his time here.
~ Nancy jo Tubbs