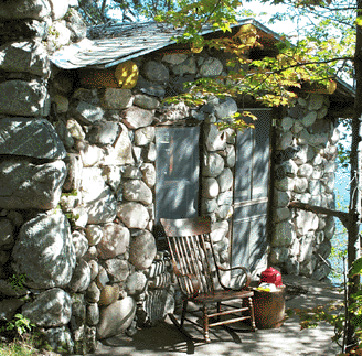 Our housekeeping cabins are a perfect vacation base for two to ten guests. Kitchens have sweet, cold well water, a small gas cookstove, refrigerator, dishes, and utensils. We provide aged birch, pine, and poplar for the wood stove. Double and single beds are furnished with fresh linens. Natural woods between the cabins provide privacy. There are central rest rooms, shower and sauna, and privies on the outskirts. Extra single beds are available for rent. Bring kitchen and bath towels, flashlights, and -- if you wish -- a radio, electric fry pan, and laptop; WiFi is available in a central location.
Cabin accommodations are available from mid-May through September. During July and August, we reserve by the week, Saturday to Saturday.
Spring and fall rates at a 20 percent discount are offered in May, June, and September. These are the perfect times to plan a family reunion, to enjoy the May flowers or autumn leaves, or to try out a cabin that is always occupied mid-summer. You may reserve a cabin for less than a week (two-night minimum) in these months.
2022-2024 Rates:
Click, below, for photo and more information about each cabin.
People Per Cabin
Cabin #
Spring/Fall
Weekly Rate
 July/August
Weekly Rate
2
16
$480
$600
2
17
$480
$600
2
18
$480
$600
2
27
$480
$600
2
28
$480
$600
2
2
$535
$670
2
11
$535
$670
2
26
$535
$670
4
12
$775
$970
4
15
$775
$970
4
19
$775
$970
5
4
$845
$1055
5
6
$845
$1055
5
8
$845
$1055
5
9
$845
$1055
5
10
$845
$1055
5
20
$845
$1055
5
21
$845
$1055
6
5
$910
$1140
6
7
$1020
$1275
7
14
$1025
$1280
7
24
$1040
$1300
7
25
$1040
$1300
10
1
$1215
$1520
8
Aunt Kate's
$1440
$1800