Camp Van Vac
News & Updates Blog
August 2001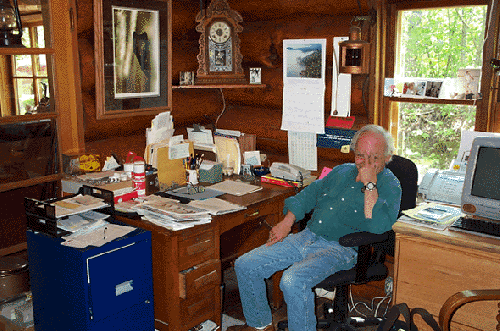 On June 18, 2001, Tom Speros, our dear friend and co-conspirator at Camp Van Vac, went into St Mary's Medical Center in Duluth for surgery to remove a cancerous esophageal tumor. The surgery went well, but over the next few days in intensive care his systems began to fail. On July 14 he died while his sister, Lis, and I and his nephew Marty stayed close and touched and talked to him.
Just a few days before Tom went into the hospital, our crew member Chris Johnson aimed his new digital camera at Tom and got this shot we have so often seen of our scampish friend: the fugitive evading discovery. A little while later, walking down the road with a pile of sheets, Chris saw Tom talking out front with our friend Mark Imsdahl and popped off the shot on our August page without Tom knowing. We wanted to share them with you.
Thank you to all of you who were with us through this tough time. Our hearts go out to Tom's many Camp friends for whom this is new, sad news.
Special thanks also to those of you who were able to join us in September for a memorial for Tom with his favorite music, good food, and delicious stories about Tom. --Love, Nancy jo


Tom's obituary in the Ely Timberjay: A memorial Celebration of Life for Thomas J. Speros, 62, of Winton and St Louis Park, will be held on September 9 in Ely. Mr. Speros died July 14 at St. Mary's Medical Center in Duluth after a short illness.
He was born on June 10, 1939, in Portland, Oregon, to James T. and Mary Kathryn (Hughes) Speros. He attended college at Lewis and Clark in Portland, moved to California in 1966 where he started a psychodrama institute, coordinated the drug and alcohol program for Solano County, and became an an independent film-maker. In 1983 he moved to Minnesota with Nancy Tubbs, where they managed Camp Van Vac on Burntside Lake. He will be remembered for directing the 2001 production of "Wit" in Ely; for screenwriting and acting; his casual genius on guitar, banjo, and mandolin; his love of theatre and movies; and especially as resident comedian and curmudgeon.
He is survived by two sons, Dimitri and Ted (Lita) Speros of San Francisco, California, and a daughter, Jayne Speros of Santa Cruz, California, his sister Lis (George) McCrea of Ely, his twin brother Mark Speros of Denver, Colorado, two grandchildren, Tony Licata Speros and Ruby Rudd Speros, and by nieces and nephews including Gwen, Scott, and Marty McCrea.
Memorials may be made to his favorite charities, the Southern Poverty Law Conference, Amnesty International, and the National Organization of Women.
Related Posts