Camp Van Vac
News & Updates Blog
August 2011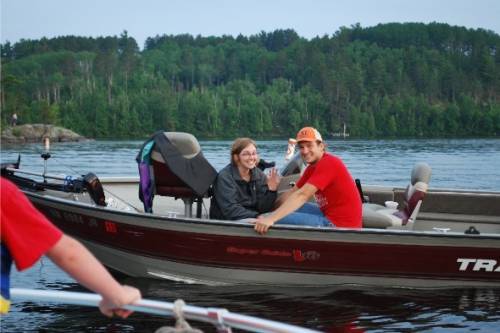 Pat Conzemius caught a lovely walleye at Camp. His sister Kate Conzemius and her friend Derek Van De Velde had another kind of Camp Van Vac adventure. Here's her letter to Nancy:
Hello Nancy!

I did not get a chance to see you this year up at the lake, Derek and I were only there visiting for a couple days. I am sure you hear this all the time, but traveling up to CVV every year is like coming home. I have had so many of my favorite childhood memories at CVV, over the last thirty plus years my family has been visiting.
This year had even more special meaning for me. My whole family, all 11 adults, seven kids, and three dogs had gathered on June 30th at Cabin 25 for dinner. We enjoyed sitting near the lakeside sharing food, jokes and lots of laughter. After dinner, everyone piled onto a couple boats and set off on a sunset cruise. My boyfriend of four years, Derek, had caught a huge walleye fishing with my brother Pat earlier in the day. He said he "had the fever" and wanted to go fishing instead of going on the boat with the others.
Pat let us borrow his boat and we anchored off the Point at CVV, near the buoys. It was probably about 8 or so so the sun was sinking closer to the treeline across the lake. I was busy complaining about needing to change my set up to a jig and leech, so Derek started fixing my line while I cast a while. I told him to put something bright and shiny on, as it was getting late in the day and the water would be pretty dark. It was taking him forever, and he kept digging in his pocket and acting funny.
Finally, he asked me to grab a leech out of the bucket. When I turned around, there tied to my line, was not a jig as I requested, but a beautiful sparkling ring. With leech in hand, and Derek on his knee, we got engaged! My brother John came over in his boat asking if I caught any fish. I said nope, but got a keeper instead! The others came over and we had a little celebration on the pontoon, complete with "Welcome to the Jungle" played for Derek. The sunset was just as beautiful as ever that evening! I am so grateful to have such a special place to visit every year with the family, and even more grateful that we are beginning the next phase of our lives together while at Camp Van Vac. Thank you for all the energy you put into maintaining and creating a place for such amazing memories to be made.
See you next year!
Kate Conzemius
Wow -- Congratulations, Kate and Derek!
By accepting you will be accessing a service provided by a third-party external to http://www.campvanvac.com/