Camp Van Vac
News & Updates Blog
August 2011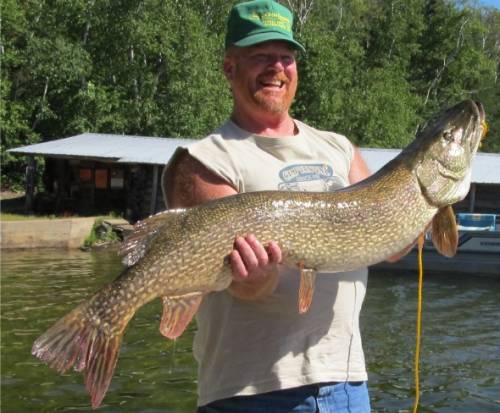 Our long-time guest Bryan Stropes caught this beautiful northern, and would have let it go, but couldn't revive it. Click twice to see the larger versions of this mighty fish. Brian tells about his 2011 adventure:
Shelly and I were doing laundry in town. While the clothes were drying, I said, "Let's check out that bait store across the street." They had Super Shad Raps for a dollar or two less than usual. They had the perch color that I like so I bought one.
When we got back to Camp Van Vac, we decided to go fishing. We headed out to the mouth of the North Arm where I had a big one hooked the day before and it got away. On the way there I saw and remembered this spot where there is shallow water with very deep water close by, so in a split second decision, I cut the boat hard at full speed, did a U turn as I slowed down and cast out for trolling. Shelly cast out too. Within a minute I had the monster on my line! It fought hard for a long time and we didn't see it for a while. Lots of drag was peeling off my reel.
Shelly told me, "You've never looked as sexy as you do right now." I thought that was funny.
It was something when we did see the fish fighting in the water. It was so big! Towards the end, in a final attempt to get away, it did the alligator death roll. My line was wrapped around the fish! Gill plates can cut the line! I worked my rod to unwrap the line. With a few tries I was able to grab it by the gill and drag the fish in the boat. I came back full speed to Camp Van Vac where I tried to revive the fish to turn it loose after the picture taking. It wasn't going to come back to life. It was too far gone.
Nancy and Shelly suggested that I have it mounted. I thought it was a good idea. The taxidermist gave me two giant fillets and we ate them at the pot luck on the dock. Shelly brought the first tray of fish onto the dock on time. I finished frying the rest of the fish. Ten minutes later when I walked on the dock with the rest of the fish, everybody cheered! I felt so good. I didn't want to overcook the fish trying to cook it all the way through. The fillets were so thick. It turned out just right, not overcooked or undercooked. I thought a fish that size might be a little gamey or fishy but it wasn't! It was very good. There were 40 people at the pot luck and I think everybody had at least one piece of fish. There were only 2 pieces left over.
This fish was a gift from God.
By accepting you will be accessing a service provided by a third-party external to http://www.campvanvac.com/