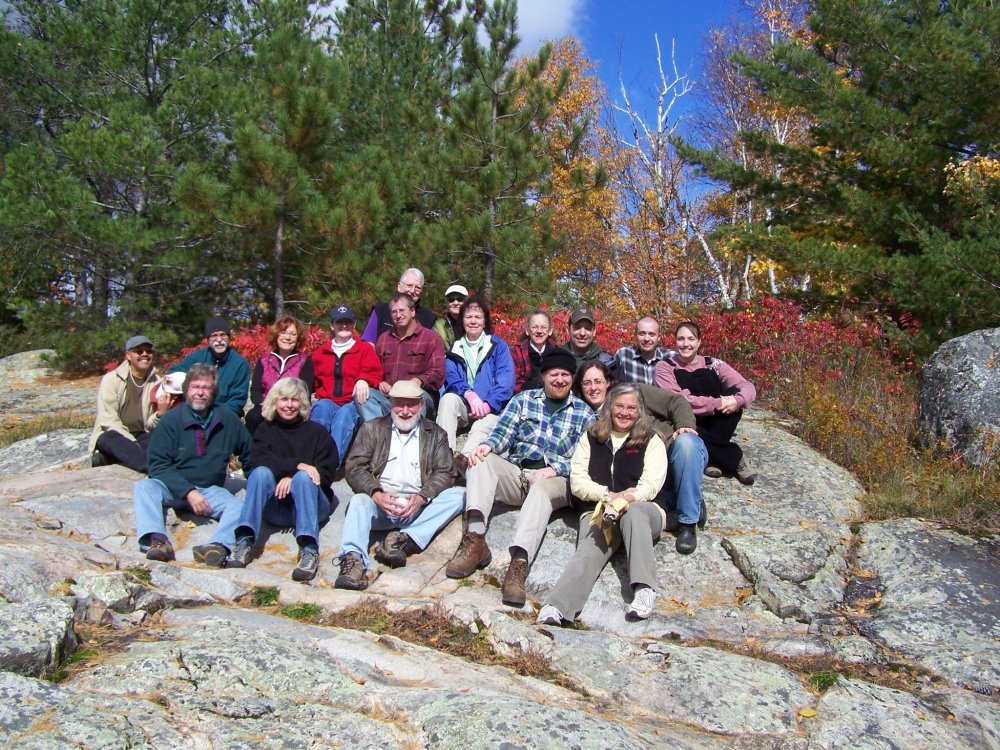 Dear Friends, Countrymen and Workweekenders,
Hellooooo Work Weekenders,
Thanks for lending us your ears, strong backs, and good natures for a wonderful October 1-3 sendoff to Camp for the 2010 season. Today the leaves are mostly down, but the tamracks practically vibrate in their golden glory and we have temps in the 70s. Our wood is all split and stacked—except for the eight cords that were delivered today. (Ho-boy)
Thanks to you all who made our time together both fun and productive: Berta & Kathy, Oliver & Mark, Dave & Trudi, Carol and Brad, Marnie, Jacque, Dan, Maureen and Jim, Maura, Jonathan & Greg, Barb & David.
I'll remember that weekend for the bright leaves, sun and cool temps, singing in cabin 1 (especially The Bear Song), our group photo on the rocks, Saturday night massage, the conch call to meals, and the list of words to put on the benches, especially "Shhhhh . . . , " and Betty's magic fingers. And who could forget our mascot, "Batty."
Our work, too, was remarkable. There was more organizing in the tool room, and we made huge progress on the windows in cabin 4, took down curtains, washed and mangled them, did handyman work on screen doors and windows, tore up the bathroom linoleum and planned for replacement; stoned the bog labyrinth and trimmed the trail, put gravel on the paths around cabin 1, cleaned canoes and boats for storage, washed dishes, planted wildflowers in the 4-square garden and around the yurt, emptied the flower boxes and brought in the sign, raked up branches and leaves by the lodge, split and stacked wood on the hill and tossed wood in the main shed, made wood fires and coffee, and left cabin 1 in good form.
So thanks for once again leaving Camp in better shape than you found it! You warmed our hearts and brightened our spirits. Plus, you rounded our tummies with ginger snaps, corn bread, oatmeal bars, black bean stew, lentil soup, tomatoes, potato salad, herb bread, and tea.
Sending you each my profound thanks and a big hug,
Nancy